Meet Dr. Heather Dwyer
Witnessing the Positive Effects of Chiropractic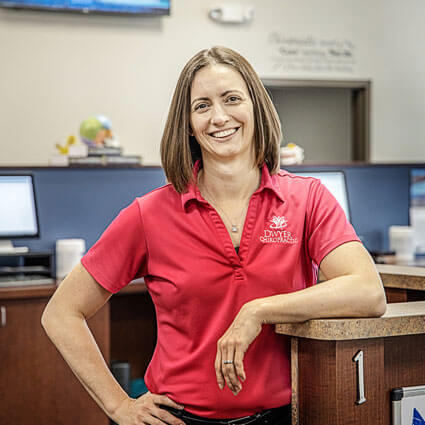 "I chose to become a chiropractor after playing volleyball in college. At the time, one of my teammates had a whiplash injury after being hit in the head with a volleyball. Traditionally, most people with that type of injury would be out for weeks at a time. She was back at 100% just two days after visiting her chiropractor."
Dr. Heather was so impressed by the results her teammate experienced that she decided to check out her chiropractor. "Everything just made so much sense. When you remove interference, the body will start healing itself."
My passion is helping pregnant women through their journey and helping them reach the birth outcomes they desire.  I also love helping babies and kids live their best life.  Chiropractic care for kids is gentle and extremely powerful in keeping them healthy and resilient.  Talk to us about how we can keep your family healthy.
Obtaining a Chiropractic Education
After seeing her chiropractor, something clicked for Dr. Heather. She knew that becoming a chiropractor was what she was supposed to do in life. After earning her undergraduate degree from Urbana University, she went on to obtain her Doctor of Chiropractic from Palmer College of Chiropractic in Port Orange, Florida. She chose the school due to its outstanding reputation.
As part of her education, Dr. Heather did a clinic abroad in Vietnam where she provided care for hundreds of people over a three-week period. "It opened up my eyes to how fortunate we are to get to do what we do."
Helping Others With Her Hands
While conventional medicine relies on drugs and surgery, chiropractic care is entirely natural. Dr. Heather is passionate about helping others to live their best life by using her hands to remove interference from the nervous system.
I get to use my hands to unleash a person's health potential.
Staying Active in London
When she's not at the practice, Dr. Heather enjoys spending time with her husband Drew, son Lane and their two fur babies Titus and Ace. It is because of chiropractic care that Dr. Heather was able to get pregnant and have her first child.  Dr. Heather lives for the summer months and enjoys spending time on the lake.
She is a member of the local chamber of commerce and the Ohio State Chiropractic Association. Dr. Heather and other members of the Dwyer Chiropractic team also like to give back to the community by holding food drives a few times a year to benefit Help House, which serves families in need. The team also helps a local elementary school by holding a school supply drive.
Find out for yourself how great you can feel with safe and natural chiropractic care. Contact us to book an appointment with Dr. Heather!

Dr. Heather Dwyer | (740) 852-1965